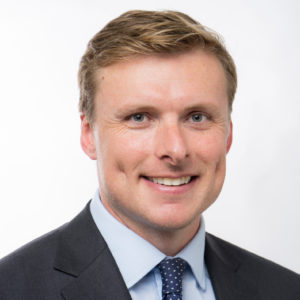 BMedSc(Hons) MBBS MSc(Oxon) FRACS FAOrthA
Dr Alex Nicholls is a dedicated specialist knee surgeon, treating all adult and paediatric knee conditions. He has particular interests in sports knee injuries, arthroscopic ligament reconstructions (ACL reconstruction), and management of arthritis in younger more active patients via joint preservation osteotomy surgery. He also performs partial and total knee replacement surgery utilising robotic and computer-assisted navigation techniques.
In addition to his Australian specialty training, he has also worked and trained in the USA and the United Kingdom where he undertook higher levels of operative training in Sports Knee Surgery, Arthroplasty and Paediatric Orthopaedics. Dr Nicholls trains local orthopaedic surgeons through his involvement in the Australian Orthopaedic Association specialist training program and international orthopaedic surgeons through his role as a fellowship supervisor at Sydney Orthopaedic Research Institute. 
He is an active member of the Australian Knee Society and the International Society of Arthroscopy, Knee Surgery and Orthopaedic Sports Medicine (ISAKOS).
TREATING URGENT & ACUTE KNEE INJURIES IN SYDNEY
TREATING URGENT & ACUTE KNEE INJURIES IN SYDNEY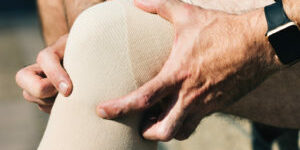 If you are suffering from an urgent sports knee injury, such as a fracture, an ACL rupture, meniscal tear, Dr Nicholls will diagnose your injury and recommend the appropriate pathway for you. Complete our new patient form with your details, and our practice team will be in touch ASAP.
If you are thinking about a total knee replacement, and want to book an appointment to see a Dr Nicholls at The Knee Institute in Sydney, use the link below to submit our new patient form. Our practice team will be in touch with you ASAP, to secure your appointment.
PRACTISING FROM THREE LOCATIONS FOR CONVENIENCE
PRACTISING FROM THREE LOCATIONS FOR CONVENIENCE
Dr Nicholls is a practising orthopaedic surgeon in St Leonards, Northern Beaches and Westmead. You can arrange your consultation at either of these three locations. In addition, Dr Nicholls is a trauma and knee surgeon at Northern Beaches Hospital and The Children's Hospital at Westmead. 
For private patients, surgery can be scheduled at The Mater Hospital, Northern Beaches Hospital and Westmead Private Hospital.
Regardless of which knee condition you are suffering from, Dr Alex Nicholls offers a variety of treatments in Sydney. To book a consultation, feel free to contact his rooms on (02) 8045 5640 or use our New Patient Enquiry Form above to submit your details.